4 August 2021 – 2021 Doyle's Awards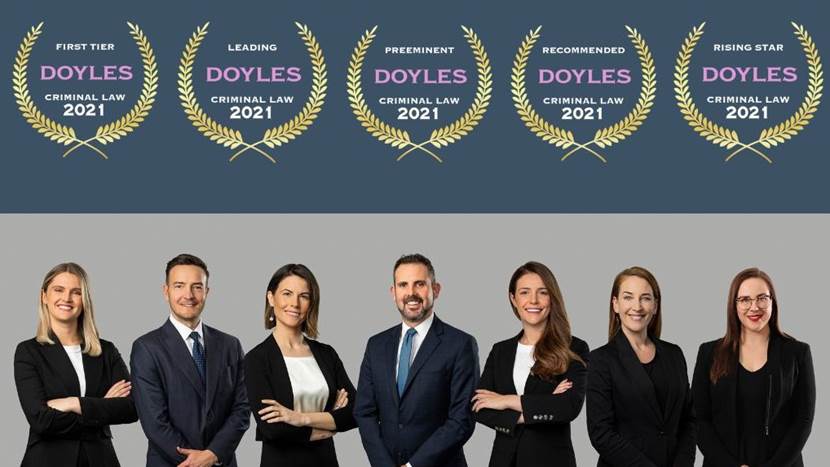 It's been a big week for Hugo already!
Hugo Law Group has been recognised by other members of the profession in both NSW and the ACT as being a First Tier Criminal Defence Law Firm (voting took place under our previous firm names).
Hugo Law Group now has the most ranked lawyers across NSW and the ACT.
A huge congratulations also to the following team members who have been recognised individually:
We feel so privileged and grateful to our colleagues and peers for continuing to recognise our hard work and dedication to the profession.
Both Younes + Espiner Lawyers and McKenna Taylor were previously widely regarded as leaders in their respective jurisdictions, so we can't wait to show you what we have planned for Hugo Law Group.
— — — — — —
11 August 2021 – New Chief Judge of the Common Law Division of the Supreme Court of NSW appointed
NSW Attorney-General Mark Speakman has today announced that The Hon Justice Robert Beech-Jones will be the next NSW Supreme Court Chief Judge at Common Law and a Judge of Appeal.
Justice Beech-Jones was a barrister for 20 years before being appointed a Judge of the NSW Supreme Court in 2012.
He is taking over from The Hon Justice Clifton Hoeben AM RFD, who was appointed to the NSW Supreme Court in 2003 and is retiring on 31 August 2021.
We have no doubt that Justice Beech-Jones will be exceptional in the role and we send our congratulations to him.
— — — — — —
12 August 2021 – New NSW Director of Public Prosecutions (DPP) appointed
NSW Attorney-General has today announced that Sally Dowling SC has been appointed the next NSW Director of Public Prosecutions (DPP). She will be the first female to hold the role.
Ms Dowling was admitted as a legal practitioner in 1995 and appointed Senior Counsel in 2013. She served as a Crown Prosecutor for over 15 years and in 2016 was appointed Deputy Senior Crown Prosecutor.  In 2019 she was Senior Counsel assisting the Special Commission of Inquiry into the Drug 'Ice' and since 2020 she has been a barrister in private practice.
Ms Dowling will begin her 10-year term as the fourth NSW Director of Public Prosecutions on 16 August 2021. She replaces Lloyd Babb SC, who finished his 10-year term on 17 July.
A warm congratulations to Ms Dowling for her excellent appointment.
— — — — — —
27 August 2021 – NSW Chief Magistrate retires
Today, the longest serving Chief Magistrate of the NSW Local Court, Judge Graeme Henson AM, retires after 33 years on the bench. He was Chief Magistrate for 15 years.
Deputy Chief Magistrate Michael Allen will be the Acting Chief Magistrate while the NSW Government considers who will permanently replace Judge Henson.
From all the lawyers at Hugo Law Group, thank you for your service.
— — — — — —
1 September 2021 – New Chief Magistrate appointed
The current President of the Children's Court of NSW, Judge Peter Johnstone, has been appointed as the new Chief Magistrate of the NSW Local Court.
Judge Johnstone was appointed as an Acting NSW District Court Judge in 1997, later becoming a full-time judge of the NSW District Court in 2006. He has been the President of the Children's Court of NSW since 2012. He has also previously been a part-time NSW Law Reform Commissioner and Deputy Chair of the Medical Tribunal of NSW.
Judge Johnstone will commence in his new role from 6 September.
A warm congratulations to Judge Johnstone for this latest chapter of your judicial career.
— — — — — —
17 September 2021 – Minds Count Foundation Annual Lecture
Last week the Minds Count Foundation held their annual lecture and some of our lawyers joined – virtually – to hear from Zali Stegall OAM MP and Justice Jayne Jagot, who discussed how to embed sound mental health practices across the legal profession.
Minds Count (formerly the Tristan Jepson Memorial Foundation) was founded in 2008 by George and Marie Jepson following the suicide of their son, Tristan, who was a law student.
The Foundation has been hosting annual lectures on mental health awareness and mindfulness since it started. The lectures aim to create a forum for the legal community to come together and discuss the unique mental health challenges faced by the profession.
Thank you to both Zali Stegall and Justice Jagot for the insights they shared.
Want to know more? Visit www.mindscount.org.
— — — — — —
27 September 2021 – University of Wollongong's Intervarsity Criminal Law Competition

Last weekend Hugo Law Group had the privilege of sponsoring the University of Wollongong's Intervarsity Criminal Law Competition.
Having previously been sponsored by Younes + Espiner Lawyers in 2018, 2019 and 2020, we were thrilled that seven of our Partners and Senior Lawyers volunteered their time to judge the competition this year.
As always, the standard of advocacy from the students blew us away. A special congratulations to Justin Gass and William Liu from Monash University who were crowned the 2021 Champions, and to this year's Runners Up, Adam Cass and Skanda Panditharante from ANU.
Hugo Law Group's Karen Espiner then joined former NSW District Court Judge Richard Cogswell SC and NSW Local Court Magistrate Melissa Humphreys to present the awards and participate in a Q+A with the participants, where the panellists shared their insights, advice and tips to some very impressive students who will shortly be entering the legal profession.
Thank you to Judge Haesler, Judge Hatzistergos and Richard Cogswell for judging the grand final and a special thanks also to everyone from University of Wollongong Law Students'​ Society who assisted in the preparation and running of the competition. The competition simply wouldn't be such a success without the level of coordination and organisation on their end.
Hugo Law Group is proud to support this event and looks forward to seeing some of the participants at the bar table in the not-too-distant future.
— — — — — —